About cattery
Welcome to the cattery of British cats Fantasy Fiesta * UA!
Best British shorthair cattery in Ukraine, according to UFU TOP CAT.
As well as 3 place between catteries of ALL breeds!!!
We have available kittens now!!!

If you want to buy BRITISH SHORTHAIR kitten you are on the right way.
WE SHIP KITTENS WORLDWIDE.
On our site you can
buy a british shorthair kitten
; view photos of british kittens; see the show results of our British shorthair cats at International cat shows; find out what kitten need, read the FIFE British shorthair standard; find out what colors British cats have and see the outstanding representatives of the British breed.
The cattery was registered in Federation Internationale Feline (FIFe) May 18 2006, reg. № CN UFU 0157.
Our cattery works in Odessa feline breed club Lukomorye which is a part of Ukrainian Felinology Union (UFU).
The cattery owner Mrs. Ovanesian Kateryna- FIFe judge categories 1b, 2, 3, 4c, chief of the UFU Breeding & Registration Comission.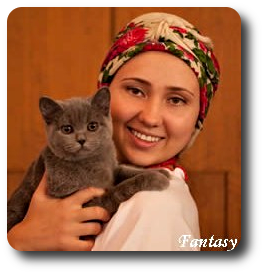 My cattery breed British shorthair cats of solid colours: black, blue, chocolate, lilac, cinnamon & fawn.
The basis of the cattery is the outstanding representatives of the breed, having in their pedigrees hightitles cats of the best catteries in Europe!
Cats of our cattery do not live in cages. They walk freely around the apartment and are our lovely pets.
Our pets do not miss any FIFe cat show in Ukraine and neighboring countries, where they receive an adequate experts assessment.
You can contact us, if you want to buy british kitten, reserve the british kitten, get advice on nutrition, care and breeding british kittens.
e-mail: fantasy-fiesta@ukr.net